Guest Rooms & Suites
"All the comforts of home away from home."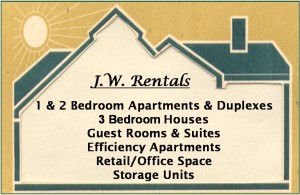 Use our Guest Rooms & Suites for clients, family or guests,
for vacations, reunions or just a getaway to pamper yourself.
THE DOWNTOWNER GUEST SUITE & GUEST ROOM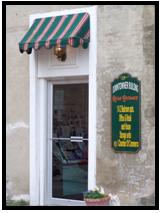 Conveniently located in downtown Delphi at 113 South Washington Street.  Guest Suite #1 has a full size bed on the ground level and a full size bed in the loft bedroom.  Guest Room #GH is located on the second floor with a queen size bed.  Both Guest Suite & Room have a shared deck available for your enjoyment.
JAMES P. DUGAN GUEST ROOMS
Close to everything downtown at 219 South Union Street.  These Guest Rooms are located in the Historic James P. Dugan Building.  These two Guest Rooms are on the ground level and both have direct entrances from the outside and parking on the North side of the Dugan Building. These are neighboring rooms and would be a great choice for guests who wish to stay close together.  Both Guest Rooms are completely furnished and a coin-operated washer & dryer are on the premises for your use.  Guest Room #7 has a queen size bed and there is a full size bed in #11.
DAVIS LANE GUEST ROOMS
A short walk or drive to Delphi and located at 202 Davis Lane.  This Guest Room is ground level and completely furnished with a queen size bed.  A coin-operated washer & dryer are on the premises for your convenience.
FRANKLIN STREET GUEST SUITE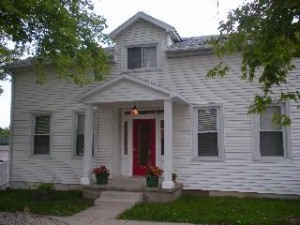 Everything is at hand at this downtown location 225 West Franklin Street.   This Guest Suite has a downstairs kitchen/dining area, upstairs living area and a bedroom with full size bed and full size hide-a-way bed.  A privacy deck is also there for your enjoyment.

ALL GUEST ROOMS & SUITES INCLUDE:
Complete furnishings, TV/VCR with Cable, Air Conditioning, Kitchen or Kitchenette, one weekly guest house cleaning & fresh linens and daily $3.00 meal coupons for local restaurants.  All of our Guest Rooms & Suites are walking distance to downtown Delphi with its many Antique Stores, Parks, Walking/Bicycle Trails and the Wabash & Erie Canal Interpretive Center and Museum.  All Guest Rooms and Suites are Non-Smoking facilities.  Sorry, pets are not allowed in the Guest Rooms or Suites.
PRICES AND RESERVATIONS:
A credit card will hold your room (a 2-day notice is needed to cancel).  Prices are based on 2-person occupancy, extra guests (all ages) are $4.00 per day. Roll-away beds are also available for $10.00.
FRANKLIN STREET, AND DOWNTOWNER #1:
1-night $80, 2-nights $130, 3-nights $175, 4-nights $210, 5-nights $240, 6-nights $255, 7-nights $270
DUGAN, DOWNTOWNER #GH AND DAVIS LANE:
1-night $62, 2-nights $115, 3-nights $135, 4-nights $162, 5-nights $183, 6-nights $197, 7-nights $207
Call J.W. Rentals at 765-564-6045 for price and availability on all units.